Organic Pressed Olive Fresh Garlic & Pepper
100% natural, organic oil - no added flavours
Unique process for an intense taste
Delicate nose of fresh garlic
Freshly picked olives and garlic seasoned with black peppercorns are crushed together in the production of this fragrant olive oil. Thanks to the right balance of olives and herbs, this new lightly spiced speciality is ideal for making delicious marinades for grilled meat and fish.

For marinades and oven cooking, BBQ, Plancha, papillote
Raw: salads, pasta, carpaccio, tomatoes
Name: Olive, Garlic & Pepper Specialty
Net quantity : 250ml
Origin: Product of Italy
Ingredient List : Olives* 97% Garlic* 2%, Pepper* 1%
Storage conditions: Keep in a cool & dark place
*Organic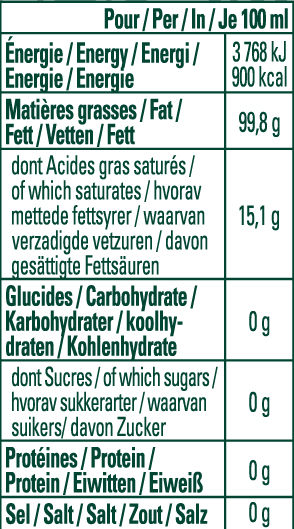 The collection of Organic Aromatic Oils has been extended with the creation of two new specialities certified as Organic Agriculture: Basil and Garlic & Pepper A small, family-run production from Calabria, made from the Ottobratica cultivar, typical of this beautiful region of southern Italy. As fragrant as ever, these oils are 100% natural, with no added flavourings. A delight for all gourmets who want to consume organic while eating healthy and good food.