The traditional ketchup recipe revisited with a chef
Balanced and low in sugar
Getting into every kitchen
Oliviers&Co. has decided to revisit a product that is emblematic of the kitchen: Ketchup, in collaboration with Olivier Streiff, a chef renowned for his audacity, his passion for vegetables and his love of southern cuisine... A recipe based on the Sicilian tradition, where the spices and woody notes of Marsala are delicately combined with tomato... A breathtaking balance of taste as the different ingredients harmonize to perfection! Not very sweet, the extraordinary subtlety of Ketchup makes it suitable for all cuisines, Mediterranean as well as Asian.
To be used for sauces: BBQ sauce, cocktail sauce, american sauce, for whitemeats marinade, to pep a tartare, to finsh a gazpacho and of course with fries, pasta…
Name: Gastronomic Ketchup by Olivier Streiff Net quantity: 310g Origin: Product of France Ingredients: tomato concentrate, water, Marsala wine (sulfites), balsamic vinegar of Modena (cooked grape must, wine vinegar, sulfites) alcohol vinegar, sugar, extra virgin olive oil, salt, modified con starch, PDO espelette pepper, chili sauce (vinegar, red pepper, salt) thyme, lavender, cumin. Storage conditions: keep refrigerated after opening and use soon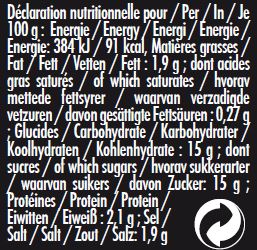 The thirty-eight years old Chef has been collaborating with Oliviers&Co. for many years now. After working at "La Bastide de Saint-Tropez", "La Chèvre d'Or", the "Grand Hôtel du Cap" and "Maya Bay", he opened his own restaurant in Beaulieu-sur-Mer (South of France): "La Raison Gourmande". There, he created a new menu almost every day according to the market produce. In 2013, one of the most influential French restaurant guides, "Gault &Millau" awarded him with three "toques" (out of a scale of five) and also assigned him as "Tomorrow's great chef".