Black Truffle flavored balsamic vinegar
A balsamic vinegar made with Alba black truffle
a real delight to the palate!
To enjoy simply or to cook
A delicious balsamic condiment in which the truffle is infused to release all its aromas.
The truffle aroma gives this condiment a sweet aroma and a pleasant flavour, a real delight to the palate!

to be served with a salad, cheese, eggs, in a risotto, to season a carpaccio or beef tartare
Name: Black Truffle flavored balsamic vinegar
Net Quantity: 100ml
Origin: Product of Italy
Ingredient List: Acetified cooked grape must, black truffle infusion 0.5%, natural aroma of black truffle 0.5%, sulphurous anhydride as processing residue
Storage conditions: Keep at room temperature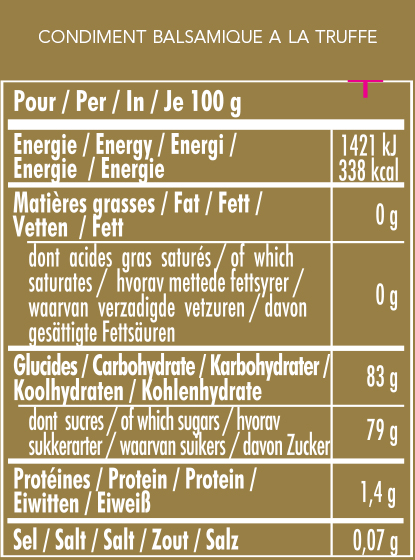 This dark tuber owes its incomparable fragrance and flavour to the many tree species at the foot of which it hides: oak, hazelnut, lime tree or other Aleppo pine.
Whether black or white, summer or winter, truffles enchant the palate with their intense aroma. A few drops of our flavoured olive oils are enough to delicately flavour your dishes from the simplest to the most refined.

OLIVIERS&CO wanted to sublimate this precious jewel of the Mediterranean by creating a collection of new, tasty and refined recipes.