Organic Pressed Olive & Fresh Green Lemon
Organic fresh lime and olives
Zero added flavor
The intense and incredibly fresh flavor of lime peel
Item code:
MULTICITVERTBIO
Always as fragrant as ever, these certified Organic oils are 100% natural, with no added flavoring: a delight for all gourmets who are close to the challenges of organic food. The simultaneous pressing of quality olives and ORGANIC lemons picked while still green. The result is surprising: an intense and incredibly fresh taste of lime peel. It goes perfectly with Honey & Ginger Specialty Vinegar, Pineapple Specialty Vinegar and Mango Specialty Vinegar.
Raw in salad or finishing / slow cooking in papillotes, in pastries, with grilled fish, in papillote or carpaccio, in summer salads, with scallops, fried prawns, fresh goat's cheese, in red fruit salad, in financials.
Name: Organic Olive & Green Lemon Specialty
Net quantity : 250ml
Origin: Product of Italy
Ingredient List : Olives 94% Lemon 6%
Storage conditions: Keep in a cool & dark place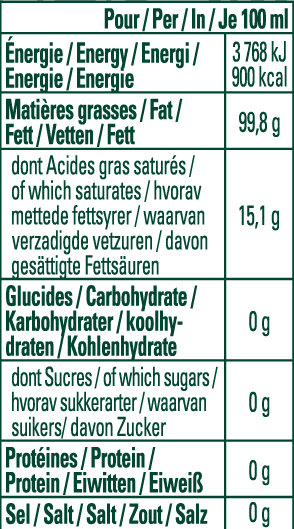 An exclusive recipe, the olives are pressed with real limes. The result is surprising: an emerald green colour and an intense flavour of lime zest. An all-natural product made in Puglia in southern Italy, where the tradition of pressed olives and citrus fruits from Abruzzo has been reinvented. In Abruzzo it was customary, at the end of the olive harvest, to degrease the millstones by crushing lemons.