Ciappe with Olive Oil 11.7%
Salted biscuits made in Italy
Very thin, slightly salted and handmade
Replaces bread for your aperitif toasts
NEW RECIPE EVEN CRUNCHIER!Made from carefully selected olive oil and wheat flour, these light and crispy ciappe are produced at the traditional way.Very thin wheat patties lightly salted and shaped by hand, which explains their irregular shape, before being baked in the oven.

Enjoy with a savory spread for aperitif

Name: Ciappe With Olive Oil 11.7%
Net quantity: 150g
Origin: Product of Italy
Ingredient list: wheat flour, olive oil 11,7%, salt, yeast, malted wheat flour. May contain traces of soja
Storage conditions:Keep in a cool and dark place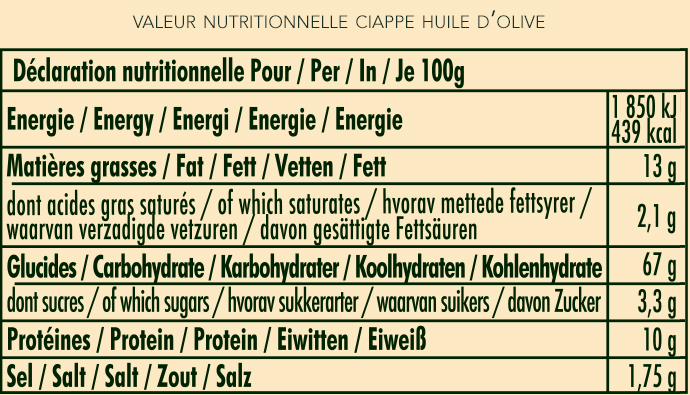 Find a selection of Oliviers&Co's tasty biscuits, made according to authentic methods and inspired by the Mediterranean tradition!