The traditional Provençal recipe
The black olive tapenade, a classic of the Mediterranean cuisine, perfectly made, for your aperitifs, sandwiches or small appetites on a piece of bread. The real recipe for the traditional Provencal black olive paste: Beautiful sun-drenched olives, pitted and finely crushed, extra virgin olive oil and a drizzle of balsamic vinegar, these are the secrets of this exclusive Oliviers&Co creation. A preservative-free creation made in France (Vaucluse).
To spread on toast, to serve with vegetables as an aperitif, to use in the preparation of a focaccia or as a tart base, to use as a finishing touch on grilled fish.
Name: Black Olives Tapenade Net quantity: 100g Origin: Produit de France Ingredient list: black olives 76,50%, capers, extra virgin olive oil, balsamic vinegar (wine vinegar (sulfites), cooked grape must (sulfites), color : caramel (E150d)), garlic, anchovy paste (salted anchovies, sunflower oil, vinegar, spices), concentrated lemon juice, salt, ground black pepper.. Storage conditions : Keep refrigerated after opening & consume soon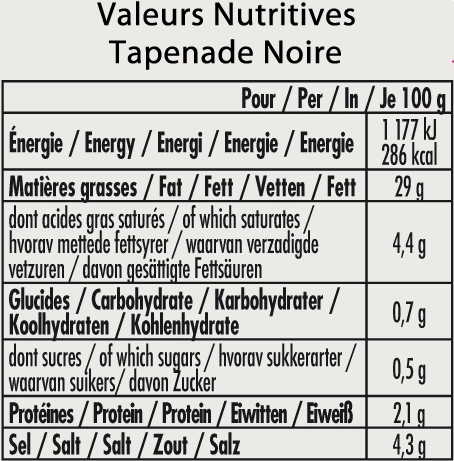 Faithful to its tradition and its know-how for culinary creations, Oliviers&Co. wanted to highlight the black and green tapenade, a great classic of Mediterranean cuisine. The result is two succulent and gourmet recipes, based on simple products, made in Provence (in the Vaucluse). Exists in several formats, ideal to sublimate the aperitif.